Google Chrome browser is recommended to view the auction. If do not have the Chrome browser, please download, and log in through that browser.
If the video display indicates Adobe Flash Player must be installed please click the option to "install". A new window will appear where you will need to select the option "allow". You may need to refresh the browser (Google Chrome Recommended) if it does not appear immediately after installation.
If there is no image or video check the orange tab at the top left of the video that displays "Time to Start:". You will not be able to see the live stream until that individual lane has started a live feed or the countdown has reached "00:00:00".
The controls for audio and video are located in the top left of your screen. If they are displayed in blue, they are not enabled. Click to enable.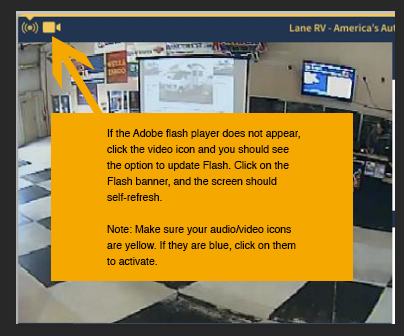 If you need assistance, or if this does not resolve your issue, call our Online Support Desk to speak with a live rep:1-855-469-7272 ext 757.